The global shipping routes connects the major open oceans, semi-enclosed seas, straits and channels. During voyages all vessels must respect and comply with laws and regulations set in operation and determined by the United Nations Law of the Sea and the International Maritime Organization. The provision of advanced and reliable ship routing tools and services have a large downstream use and application.  The main goal of the TOPVOYS project is to develop, test, implement and provide reliable voyage optimization capitalizing on new advances in observation-based tools and decision support system. The cross-cutting skills and transnational partnership ensured by the consortium allow for a comprehensive global view and understanding of the major challenges and deficiencies with respect to ship routing.  As such, TOPVOYS aims to advance:
Searching, accessing, downloading, processing and analyzing of near real time satellite data for surface current retrievals;

Operational use of sensor synergy and visualization platform;

Automated tools and machine-learning system for routing planning and optimization;

Voyage undertakings and ship performance monitoring; and

Post-voyage analyses and assessment.
The involvement of shipping companies in the consortium ensures clear hands on user requirements as well as ability to efficiently test, assess and refine the quality of the tools.  The voyage optimization will have valuable impact on fuel savings and reduction in CO2, NOx and SOx emissions. These are highly compliant with the IMO regulations and the new CO2 reporting requirement for ships entering/leaving EU ports. Fuel savings and emission reductions will, moreover, clearly have a positive impact on the green environment and blue economy and altogether contribute to the United Nations Sustainable Development Goals, in particular to #7: Affordable and Clean Energy; #12: Responsible Consumption and Production; #13: Climate Action; and #14 Life Below Water.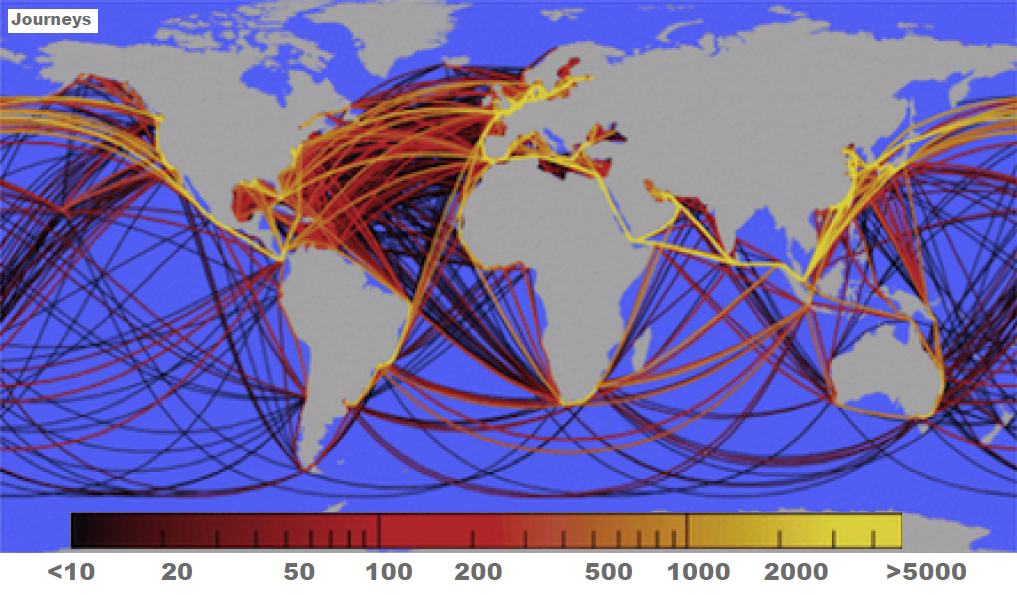 ---
The TOPVOYS (Tools for Optimizing Performance of VOYages at Sea) project is funded under the MarTERA program (ERA-NET Cofund) with their partners including Research Council of Norway (RCN), French Ministry of Environment, Energy and the Sea (MEEM), South African Department of Science and Technology (DST). The project has a duration of 36 months and will end by December 2021.
---
Acknowledgement:
The TOPVOYS project is funded by the Research Council of Norway, French Ministry of Environment, Energy and the Sea, South African Department of Science and Technology and co-funded by European Union's Horizon 2020 research and innovation programme under the framework of ERA-NET Cofund MarTERA (Maritime and Marine Technologies for a new Era).